Miles City Automotive Accessories by BAK Industries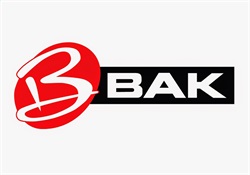 BAK Industries automotive parts are available to you in Miles City, MT at Custom Auto & Accessories! Find all the BAK Industries accessories you need including Cargo Rack Load Holder, Tailgate Cap Protector, Tie Down Holder, Tonneau Cover, Tonneau Cover Clamp Set, Tonneau Cover Tool Box, Tonneau Cover/Truck Bed Rack Kit, Truck Bed Bulkhead Cap Protector, Truck Bed Rack, Truck Bed Rack Mount, Truck Bed Side Rail Protector, Watersport Carrier, and much more!
About BAK Industries
Our belief is that just because a truck is used for work, doesn't mean it should look like a work-truck. It is possible to elegantly craft rugged and strong products and still maintain a clean look of sophistication and style. We endeavor to produce products that are not only functional and practical, but made to match OE lines and existing accents on your specific pickup truck. All BAK products speak for themselves in terms of quality and appearance. A tremendous amount of thought and creative styling is evident in every product manufactured by BAK Industries. Over the years, BAK INDUSTRIES has grown from strength to strength with our loyal support and commitment to our customers around the world. We endeavor to continue to better ourselves with each passing year, taking a personal interest in all of our customers businesses to ensure them of the finest quality bedliners and service world wide!
About Custom Auto & Accessories
Located in the heart of Miles City, Custom Auto And Accessories is THE place for all of your automotive accessory needs. We offer a 4,000 sq ft showroom and an 8,000 sq ft shop with the latest tooling and equipment. Our trained installers have a combined 30+ years of experience and we stand behind all of our installs. We offer thousands of products including custom car wraps, auto graphics, truck bed liners, window tint, trailer wraps & much more!
If we don't have what you're looking for, we'll do our best to find it for you. We also offer a full line of custom car electronics from DVD systems and remote car starters to car and marine audio systems. Our number one focus is quality and customer satisfaction. Let us prove it to you!