Miles City Automotive Accessories by Bully Dog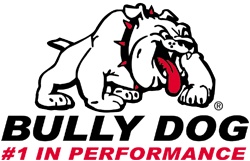 Bully Dog automotive parts are available to you in Miles City, MT at Custom Auto & Accessories! Find all the Bully Dog accessories you need including Air Filter, Air Intake Kit, Auto Trans Shift Kit, Computer Chip, Computer Chip Programmer, Computer Chip Programmer Cable, Decal, Engine Control Module Switch, Fuel Additive, Gauge Pillar, Gauge Pod Adapter, Interior Rear View Mirror Mounting Kit, License Plate, Pyrometer Sensor, Vehicle Module Hub, and much more!
About Bully Dog
Bully Dog was formed in 1998 in Aberdeen, Idaho. The founders of Bully Dog – Michael, Phillip, and Daryl Klassen were heavily influenced by their father Harold's interest in improving vehicle performance. Several years prior to the company's inception, Harold had experimented with increasing performance on his diesel farm tractor by injecting propane into the engine's combustion chamber. Bully Dog products are developed with you in mind and each of you has a different need, want and desire. Our products, all the way back to the first propane kits, reflect that. Bully Dog products are built to be flexible, allowing each user to get their own desired result, from outrageous performance on the race track to improved fuel economy driving down the highway. Bully Dog products have you covered with increased performance, added safety and improved economy. This is evident with the Triple Dog Downloader, Outlook Monitor and the new Performance Management Tool. These products offer the safety of a module married to the performance and flexibility of a downloader. Product innovation is key and Bully Dog takes innovation very seriously. In the past 8 years, Bully Dog has been first to market with product fitment and function over 80 times. They are the ONLY manufacturer that allows you to take their product for a free test drive with the Tri Before You Buy program. And in 2005 with the release of the Triple Dog Downloader and Outlook Monitor, Bully Dog revolutionized the market with the ability to adjust power, safety and economy levels on-the-fly while driving down the road. So what are you waiting for, find the right product for your vehicle and Unleash the Power!
About Custom Auto & Accessories
Located in the heart of Miles City, Custom Auto And Accessories is THE place for all of your automotive accessory needs. We offer a 4,000 sq ft showroom and an 8,000 sq ft shop with the latest tooling and equipment. Our trained installers have a combined 30+ years of experience and we stand behind all of our installs. We offer thousands of products including custom car wraps, auto graphics, truck bed liners, window tint, trailer wraps & much more!
If we don't have what you're looking for, we'll do our best to find it for you. We also offer a full line of custom car electronics from DVD systems and remote car starters to car and marine audio systems. Our number one focus is quality and customer satisfaction. Let us prove it to you!