Miles City Automotive Accessories by Firestone Ride-Rite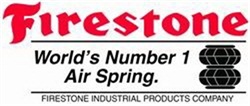 Firestone Ride-Rite automotive parts are available to you in Miles City, MT at Custom Auto & Accessories! Find all the Firestone Ride-Rite accessories you need including Air Adjustable Leveling Control, Air Helper Spring, Air Helper Spring Hardware Kit, Air Helper Spring Spacer, Air Line Fitting, Air Line Tubing, Air Pressure Gauge, Air Tank, Axle Bracket, Shock Absorber, Suspension Air Bag / Bellows, Suspension Air Compressor, Suspension Air Compressor Kit, Suspension Control Arm Bumper, Suspension Load Leveling Kit, and much more!
About Firestone Ride-Rite
More than seventy years ago, Firestone started developing a full air-based suspension for passenger cars. Firestone Airide air springs were installed on the new line fo general Motors buses in the late 50's. Later that decade, air springs began to gain popularity in luxury vehicles. Over the next 20 years, technology improvements in other suspension components, such as compressors and valves, helped support the growth of air suspension. In the 1970's, Ford Motor Company incorprated air suspension in the Lincoln Town Car and Continental. Firestone has continued to be innovative in product design, material selection and customer service, prviding our customers with improved ride quality and safe load-carrying capabilities.
About Custom Auto & Accessories
Located in the heart of Miles City, Custom Auto And Accessories is THE place for all of your automotive accessory needs. We offer a 4,000 sq ft showroom and an 8,000 sq ft shop with the latest tooling and equipment. Our trained installers have a combined 30+ years of experience and we stand behind all of our installs. We offer thousands of products including custom car wraps, auto graphics, truck bed liners, window tint, trailer wraps & much more!
If we don't have what you're looking for, we'll do our best to find it for you. We also offer a full line of custom car electronics from DVD systems and remote car starters to car and marine audio systems. Our number one focus is quality and customer satisfaction. Let us prove it to you!