Miles City Automotive Accessories by Magnaflow Performance Exhaust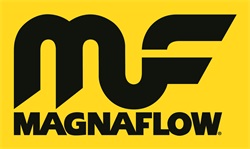 Magnaflow Performance Exhaust automotive parts are available to you in Miles City, MT at Custom Auto & Accessories! Find all the Magnaflow Performance Exhaust accessories you need including Catalytic Converter, Exhaust Clamp, Exhaust Collector, Exhaust Flange, Exhaust Hanger, Exhaust Header, Exhaust Pipe, Exhaust System Kit, Exhaust Tail Pipe, Exhaust Tail Pipe Tip, Hat, Muffler, Muffler Kit, Shirt, Turbocharger Down Pipe, and much more!
About Magnaflow Performance Exhaust
MagnaFlow Performance Exhaust got its start as a natural extension of Car Sound Exhaust Systems, Inc., our parent company, that specializes in superior catalytic converter technology. Car Sound Exhaust Systems, Inc. has spent 25 years earning a reputation as a market leader around the world. Today, we at Car Sound/MagnaFlow are extremely proud of this and stake our 25 years of experience and reputation on each and every one of our products. Each new product we develop is personally evaluated by me and tested by our team of designers and engineers, then field tested to ensure that these products meet our stringent quality and performance standards. On May 18, 2000 Car Sound/MagnaFlow Performance Exhaust was awarded the ISO-9001 certificate. ISO-9001 is an international quality standard created by the International Organization for Standardization to define quality management and manufacturing systems. It has 20 specific design, material, and process requirements that help MagnaFlow/Car Sound ensure customer satisfaction with our products and services. ISO-9001 certified companies are re-audited every six months to ensure that quality standards are maintained. Together, we stand united in our passion to deliver the best performing, most durable and capable exhaust components in the world. As we go forward, you'll slowly start to witness a change as we segue fully into the MagnaFlow Performance Exhaust brand identity, a name that has achieved global recognition. This change will simply help people from both sides of our business understand that high quality and high performance is part of our mantra and...it's in our name.
About Custom Auto & Accessories
Located in the heart of Miles City, Custom Auto And Accessories is THE place for all of your automotive accessory needs. We offer a 4,000 sq ft showroom and an 8,000 sq ft shop with the latest tooling and equipment. Our trained installers have a combined 30+ years of experience and we stand behind all of our installs. We offer thousands of products including custom car wraps, auto graphics, truck bed liners, window tint, trailer wraps & much more!
If we don't have what you're looking for, we'll do our best to find it for you. We also offer a full line of custom car electronics from DVD systems and remote car starters to car and marine audio systems. Our number one focus is quality and customer satisfaction. Let us prove it to you!