Miles City Automotive Accessories by Borla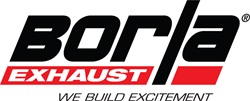 Borla automotive parts are available to you in Miles City, MT at Custom Auto & Accessories! Find all the Borla accessories you need including Cleaner/Protectant, Exhaust Clamp, Exhaust Header, Exhaust Header Extension, Exhaust Pipe, Exhaust Pipe Adapter, Exhaust Pipe Extension, Exhaust Resonator, Exhaust System Kit, Exhaust Tail Pipe Tip, Muffler, Shirt, Turbocharger Down Pipe, U-Bend Universal Mount, Valance, and much more!
About Borla
BORLA® PERFORMANCE INDUSTRIES is the pioneer and leader in the design and manufacture of stainless steel performance exhaust. We began two decades ago as a manufacturer of exhaust systems for such "concours classics" as Rolls-Royce and Ferrari cars and have evolved into the premier manufacturer of today's performance vehicles for the street, off-road, and racing.
About Custom Auto & Accessories
Located in the heart of Miles City, Custom Auto And Accessories is THE place for all of your automotive accessory needs. We offer a 4,000 sq ft showroom and an 8,000 sq ft shop with the latest tooling and equipment. Our trained installers have a combined 30+ years of experience and we stand behind all of our installs. We offer thousands of products including custom car wraps, auto graphics, truck bed liners, window tint, trailer wraps & much more!
If we don't have what you're looking for, we'll do our best to find it for you. We also offer a full line of custom car electronics from DVD systems and remote car starters to car and marine audio systems. Our number one focus is quality and customer satisfaction. Let us prove it to you!