Miles City Automotive Accessories by B&M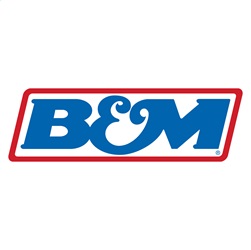 B&M automotive parts are available to you in Miles City, MT at Custom Auto & Accessories! Find all the B&M accessories you need including Auto Trans Assembly, Auto Trans Flexplate, Auto Trans Oil Cooler, Auto Trans Oil Pan, Auto Trans Shift Cable, Auto Trans Shift Cable Bracket, Auto Trans Shift Console Plate, Auto Trans Shift Indicator Hardware, Auto Trans Shift Kit, Auto Trans Shift Knob, Auto Trans Shift Lever, Auto Trans Shifter Assembly, Differential Cover, Manual Trans Shifter Assembly, Torque Converter, and much more!
About B&M
As performance enthusiasts today, most people are accustomed to having access to whatever performance parts they need for their vehicle readily available at their local dealer. It usually never crosses anyone's mind who invented these products? Who was the first to identify the need, then develop and manufacture that product? Since the very early 1950s, B&M has been at the vanguard of the growing automotive aftermarket. Racers themselves, B&M's founders identified the needs of local racers and street performance enthusiasts, and developed products to fill those needs. As the industry grew so did B&M. And as racers went faster, B&M developed products to help them break the records they just set. In the 50's it was B&M who came up with the idea of using a performance reinforced Hydramatic for racing. In the 60s it was B&M who developed shifters to go along with it, and later in the decade came race converters. In the 70's shift and transmission improving kits, and always the constant refinements and expansion of existing product lines. If you've ever raced a vehicle, or driven a hot rod with an automatic transmission, high stall torque converter, an aftermarket automatic shifter, or performance enhancing shifting kit, thank B&M. From Trick Shift performance ATF to reverse pattern valve bodies, 1.80 gearsets to cool canisters, the list of firsts goes on and on. It's this tradition that keeps moving B&M to identify and develop what the performance enthusiast needs. As racing and street performance has spread globally, B&M has taken it's extensive knowledge and experience and applied it to the needs of racers, everyday drivers and hobbyists around the world. Keep looking to B&M to continue to be amongst the very first to identify vehicle needs in the global automotive aftermarket, supplying enthusiasts and racers what they need, performance!
About Custom Auto & Accessories
Located in the heart of Miles City, Custom Auto And Accessories is THE place for all of your automotive accessory needs. We offer a 4,000 sq ft showroom and an 8,000 sq ft shop with the latest tooling and equipment. Our trained installers have a combined 30+ years of experience and we stand behind all of our installs. We offer thousands of products including custom car wraps, auto graphics, truck bed liners, window tint, trailer wraps & much more!
If we don't have what you're looking for, we'll do our best to find it for you. We also offer a full line of custom car electronics from DVD systems and remote car starters to car and marine audio systems. Our number one focus is quality and customer satisfaction. Let us prove it to you!